The Chemistry and Biochemistry Polymer Synthesis Research Facility is located on the fourth floor northeast corner of Evans Laboratory in room 4073. This brand new facility is divided into two sections:
4073A EL is a state of the art restricted access explosion proof room (XP room) for performing large scale high pressure and high temperature polymer synthesis. Access to the XP room 4073A requires special Hazardous Materials Management training for working with pyrophoric materials in a Class 1 flammable environment as well as the user being familiar with the latest NFPA fire and electrical safety codes. The XP room is designed as a laboratory sized walk in hood with a solvent drying filtration system, a büchiglasuster kiloclave reactor, a Reliable rubber mill/ drum dryer and a high temperature Blue-M HS-1204150 L explosion proof oven.
4073B EL is a wet lab with chemical analysis instruments. Access to 4073B wet lab is available to those who need to use the desktop instrumentation. This includes an Agilent Technologies GCMS, Agilent Technologies 1260 Infinity II GPC/SEC, TA Instruments TGA Discovery 550 and Discovery DSC 250 and a MonTech MV2000 Upgraded Mooney viscometer. An Agilent 1260 Infinity II Preparative HPLC is available in 4069 Evans Lab.
Instruments available starting 2021
Instrumentation are now available for our industrial clients and local research groups.  Explore the site and contact Dr. Wysocki for more details!
Thermal Analysis
Materials research is a highly evolving field for the study of new large molecules in varied areas including consumer electronics, drug delivery, building materials and many other uses. It is necessary to study their properties such as heat flow in thermal transitions during crystallization, melting and glass points as well as weight changes and gas decomposition of samples at higher temperatures.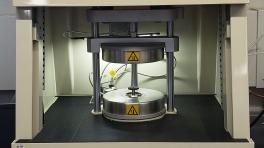 MonTech Upgraded MV2000 Mooney Viscometer with MonControl Software
A Mooney viscometer is used predict properties of elastomers and polymers by twisting the sample at 100°C or other standard temperatures. The results of this test provide information about the shear, scorch and resiliency properties of the sample which in turn give an idea of its performance.
More information about Mooney viscosity and the MV2000can be found at MonTechUSA.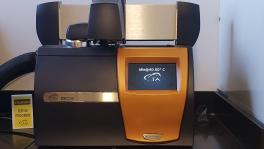 TA Instruments Discovery Differential Scanning Calorimetry 250(DSC250) 
Among the best instruments for measuring heat flow in the complex thermal events of crystallization, glass transition and melting. This instrument is equipped with a 96 well autosampler and an RCS 90 refrigeration unit that allows fast heating and cooling temperature transitions from -90°C to > 600°C.
TA Instruments Discovery Thermal Gravimetric Analysis 550(TGA550)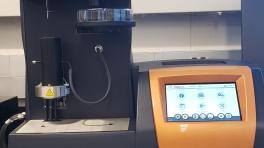 Thermal gravimetric analysis is the technique to measure the highly sensitive weight changes under high temperature in an inert or reactive atmosphere. This instrument is capable of performing regular TGA and many new "dash-TGA" experiments for high resolution studies.
Separations and Quantitative Analysis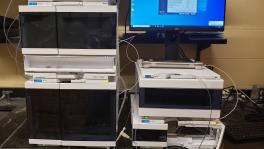 Agilent Technologies 1260 Infinity II Preparative HPLC 
The system is equipped with an autosampler, UV detection and fraction collector. It is capable of both aqueous reverse phase and organic normal phase separations with isocratic and gradient elution pumps. The system is controlled with Chemstation software.
Agilent Technologies 1260 Infinity II GPC/SEC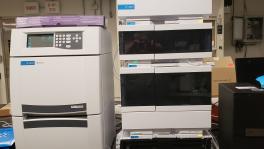 Available for users needing gel permeation/size exclusion separations to support their research. The instrument is an isocratic system equipped with triple detection, column thermostat and vial autosampler. This GPC/SEC is capable of performing both organic and aqueous separations and is controlled with Agilent GPC/SEC software.
Agilent Technologies 7890A GC Mass Spec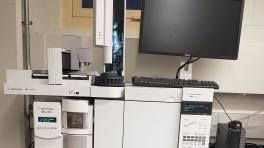 Includes a GC equipped with a 7693 Autosampler and a 5975C Triple Axis Detector controlled with MassHunter software. While its main function is to monitor reactions in the pressure reactor in the explosion proof (XP) room, it can be available hands on for departmental users.
Explosion Proof (XP) Room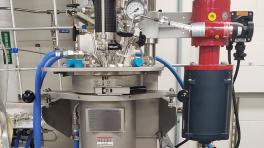 büchiglasuster® kiloclave Laboratory pressure reactor
The büchiglasuster kiloclave pressure reactor is a stainless steel apparatus used to perform anionic polymerization of butadienes and styrenes to form elastomers. These reactions require pyrophoric catalysts and reagents in anhydrous hydrocarbon solvents4°C to 180°C with high pressures and temperatures ranging from ambient to 250 psi in a static free environment from 0.5 to 10 L. Modifications can be installed for reactions requiring higher temperatures and pressures. This anionic reactor system is in compliance with current and future safety codes and industry safety requirements. Future plans include a similar system for emulsion polymerization.
Reliable Rubber mill
The highly viscous crude reaction mixture, i.e., cement, created in a polymerization process requires special techniques to strip away the solvent and isolate the elastomer. The cement is injected onto a rubber mill or drum dryer where the counterrotating 70°C thermostatically controlled rollers flash-evaporate the organic solvent and press the product as a sheet. The product is then characterized by thermal techniques, GPC and a Mooney viscometer. The Reliable Rubber mill shown meets all NFPA requirements for use in the XP room. All electrical connections and moving parts are sealed to avoid sparking that will ignite the solvent vapors.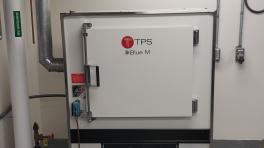 Blue-M HS1204 150 L Frictionaire Safety oven
Large scale polymer synthesis requires special techniques to isolate the crude product. The cement formed in anionic polymerization uses a roller mill for product isolation. The crude reaction mixture from an aqueous based emulsion polymerization, i.e., latex, requires complete removal of water as well as flammable organic materials. Vacuum evaporation of the reaction mixture still leaves trace organic solvents, unreacted monomers and a small amount of water. The residual impurities are removed in a heated explosion proof oven to avoid igniting the vapors. This explosion proof oven is rated for use up to 260°C.